FIFA Pro Clubs - Xbox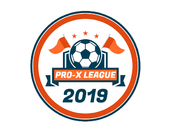 FIFA Pro Clubs - Xbox
Pro-X League - 5v5 & 11v11
*As of 25/03/2019

RULES, TERMS & CONDITIONS
GENERAL RULES AND CONDUCT
1. All members (league, managers and players) must respect others & abide the rules set out by the league.
2. Members are not to publish/use inappropriate images, links or offensive content.
3. BANS - Receiving any sort of ban may result in expulsion from the league and website.
4. SUSPENSIONS – Suspensions may lead to a ban upon investigation from the league.
5. Any members found abusing others in any form may be banned from the league.
6. Any members found guilty of cheating in accordance to the rules may be banned.
7. Members are not to promote business or other game sites without prior consent.
8. Managers and players must use their Xbox gamertag as last name (Ex. James JEDIMASTER89) when creating their profile.
9. Team Admins (managers/co-managers) are not to send a 'login invite' to other persons without consent from the league.
10. Members that register for the Pro-X forum must use the same login details for both league and forums.
11. Complaints should be made to Team Admins, which can then be dealt with by the League.
12. All rulings made by the League are final.
MANAGER/ CO-MANAGER RULES
1. Managers must register as 'Team Admins' in order to manage a team.
2. Managers can only manage one team per season.
3. New managers can be appointed during a season only in accordance to the rules.
4. All managers should find a replacement before resigning or may be suspended for the remainder of the season.
5. Managers that leave a team during the season can play for any other team but not as Manager or Co-manager and in accordance to the aforementioned league rules.
6. If a team is without an 'appointed' manager, someone on the team may take over from them with players and admin approval only. If the team fold all players will be released and the team slot become available in the league.
7. Managers must register all players prior to playing matches with their subsequent console gamertags. Teams found with an unregistered/illegal/suspended player will receive a default loss and possibly further action.
8. Managers must inform the league if a player has a communication ban on their console gaming account and need to play on another account.
9. All players are signed for the current season only. Therefore, managers will need to register players every season.
10. Team Admins are responsible for all team and player stats.


PLAYER RULES
1. Players can only play for the team they are registered with. Any player found guilty of playing with another team, or on a separate account, may be suspended/ banned upon investigation from the league.
2. Players who allow a banned or otherwise illegal player to play on their gaming console account will be banned.
3. Players who go into the club of another team in the league and intentionally lose games will be subject to a potential ban.
4. All players may be released from a team should the manager leave, or the club ceases to exist, but only if a request is made to the league by said players.
5. Players can only play for a maximum of 2 teams in a season.
6. A Player can make one written request to be released from a team per season without their team's consent.
7. Players cannot be released from one club and sign for another on the day of a match.
8. It is the responsibility of a player to ensure their match stats are entered by the team manager/admin.
TEAM TRANSFER RULES & PROCEDURES
1. Only managers, co-managers or the league can release a player from a team, with exception of a requested personal release.
2. The league must be notified of all transfers between clubs during the season. A player can only transfer to another club another during the season upon agreement between the three parties in question (player, registered team and proposed team).
3. Transfers cannot be completed on the day of matches.
4. A maximum of 3 players can be transferred between the two same clubs in any one season. Evidence of cheating may result in the teams being banned.
5. Transfers between clubs cannot be made during a cup or knockout stage of a competition.
6. All players must be registered to the team at least 10 minutes before kick-off on game days. A player who has not adhering to this rule is judged as unregistered and action will be taken in accordance to the rules.
7. The loaning of players is not allowed.
GAME RULES
1. Team names must be custom and in the event of a team taking the name of a real professional affiliated team they must place the letters PX before the team name (Example: PX Arsenal).
2. Team names must be deemed appropriate, not offensive and in accordance to the rules.
3. All teams must wear custom kits with one being dark and the other being light.
4. All teams have a minimum squad size of 2 and a maximum squad size of 15 players at any one time. 8 players are required to start a match.
5. The first 15 players registered with a team are free within the team registration fee.
6. A team can release players at any time during the season without penalty.
7. Teams must register with league every season.
8. Every team must have a minimum of 8 starting players to be able to play a match. Teams not adhering to this will be given a default loss.
9. Scheduled kick-off times can vary, please check.
10. Managers who wish to reschedule any matches to a different day at short notice must have the opposing manager agree and approval from the league. Teams failing to meet pre-arranged kick-off times may receive default loss.
11. Managers wishing to postpone a game must give good reason and at least 48 hour prior notice. A maximum of two postponements are allowed in a season.
12. Team Admins should contact each other at least 10 minutes before the scheduled kick-off times to confirm kit colour selection.
13. Teams can request for a delayed kick-off time of up to a maximum of 10 minutes on the condition that the opposition manager has been given at least 10 minutes notice before the scheduled kick-off time via three written messages. Requests must be accepted by the opposing Manager on the basis time parameters have been observed.
14. A manager cannot call a default against a team for not showing up on time after the match is played.
15. Teams must send game invites to the opposing team at least 3 times before attempting to call a default (must provide evidence).

16. All managers have the right to quit a match after half-time (with evidence) and call default, if the opposing team started a match with less than 8 players and did not back out of match before half-time.
17. If a player lags out of a match before half-time resulting in less than eight human players on a team, you may restart the match up to two times without penalty, however the entire team must also back out before the start of the second half. If a player lags out of a match once the second half starts, you cannot restart the match and must finish. A default loss will result otherwise.
18. Any goal(s) scored before a team quits or lags out before half-time will still stand when the match is restarted.
19. If a team defaults more than two games in a season, the manager and/or team maybe subject to a potential ban for the remainder of the season.
20. Default losses will result in a 1-0 score for the winner with no stats counted for either team.
21. Teams found to be guilty of purposely losing or match fixing will incur points deductions and/or suspension.

MATCH RULES & PROCEDURES
1. Stats should be video recorded after every match and posted to the league forum within 48 hours of the match being completed. For stats, quickly record the player rating screen and then flip through the player performance tab for each player on your team after the match.
2. The Manager or Co-Manager are ultimately the persons responsible for capturing or recording stats for their team.
3. All stats must be 100% clear for the league to understand. If stats are unclear, the league have the right to refuse to them.
4. The league can request for proof of stats at any time. If a manager is found guilty of blatant cheating or continually entering wrong data, they will be subject to a permanent ban from the league.
5. An 'own goal' can be contested if the Manager believes it's been awarded incorrectly, and a goal should be awarded to a player. This can only be done with supported evidence.
6. Blocking of the GK during the game is not allowed at any time. If the team is found guilty, a default loss will be awarded to the opposing team. Evidence will be required.
7. Negative/ unsporting play is not allowed, such as continually putting the ball out of play, deliberate time-wasting or a team sitting deep to an extreme amount and no interest in playing a game of football. This unsporting behaviour may lead to the offending team receiving a default loss (video evidence required).
8. There are no card suspensions.
STAT RULES
1. GOALKEEPERS - Saves/Clean Sheets/Pass Completed/MOTM/Goals Conceded
2. DEFENDERS (RB, LB & CB) - Shots/Shots on Target/Clean Sheets/Tackles/Interceptions/Blocks/Possession Won/Possession Lost/Pass Completed/Key Pass/Goals/Assists//MOTM/Goals Against
3. DEFENSIVE MIDFIELDERS (CDM, LDM, RDM) - Shots/Shots on Target/Clean Sheets/Tackles/Interceptions/Blocks/Possession Won/Possession Lost/Pass Completed/Key Pass/Goals/Assists/MOTM/Goals Against
4. MIDFIELDER (RM, LM & CM) - Shots/Shots on Target/Tackles/Interceptions/Possession Won/Possession Lost/Pass Completed/Key Pass/Goals/Assists/MOTM
5. ATTACKING MIDFIELDERS (RAM, LAM & CAM) - Shots/Shots on Target/Tackles/Interceptions/Possession Won/Possession Lost/Pass Completed/Key Pass/Goals/Assists/MOTM
6. ATTACKERS (RW, LW, CF & ST) - Shots/Shots on Target/Possession Won/Possession Lost/Pass Completed/Key Pass/Goals/Assists/MOT
7. ANY - Goals only